Hareem Shah in Foreign Office TikTok Social Media Star:
Hareem Shah in Foreign Office? This is the biggest question of today. The girl banging the social media so hard why doing such intimidate things. Where she is damaging some celebrities also changing views of youth about social media. No doubt that people enjoy such stubborn faces around them. Hareem is causing serious damage to PTI Govt by doing so-called sting operations. Question one sensible person does think and ask is that why shah is so important now?. It's human behavior, venom in our mindset. The Country under Hareem radar where no one will survive from hareem leaks. The girl in her many interviews already told that she is from PTI. It's like an embarrassment because seriously bashing different personalities and exposing them badly. If we say that she has done it right and her views are ok to dominate society. Then I guess we should follow her ethics in real life too. We all know that those people she approached and exposed were always morally corrupt peoples. They deserved what they have done and it was like a genuine thing to say. In this article, we will discuss what is the basic motive and physic of the tik-to girl.
---
Hareem Shah Original Name:
The Tiktok girl is from Islamabad and a Pakhtoon born girl. And her real name is Fizza Hussain her father's name is Syed Zarar Hussain Shah. She is originally from Mansehra the city in KPK the burger girl from Islamabad is not coming slowly at all according to her CNIC card some facts may be understandable. The following are some pictures of her CNIC card. also, read Who Killed Soul of the Islamic Republic of Pakistan?
Hareem Shah with Yasir Shami:
The superstar Social Media anchor Yasir Shami also access Sandal Khatak and asked some spice questions to her about her personality her life and goals. But after watching all that you will feel sympathy about her that she is a childish person. She has nothing to offer but entertainment in her style. Yasir Shami was quite keen to get some breaking news but yeah both the girls played it well.
Hareem Shah with Shah Mehmood Qureshi:
The Pakistan foreign minister also tasted that venom once. When her video in the foreign office went viral and really gave her millions of views. But it was a slap on the face of foreign office what was she doing there and why they let her in. It was hard to believe but she really disturbed the scenario for Shah Mehmood Qureshi maybe she was the reason for his many failures. Shah Mehmood Qureshi no doubt is the victim of Hareemzade.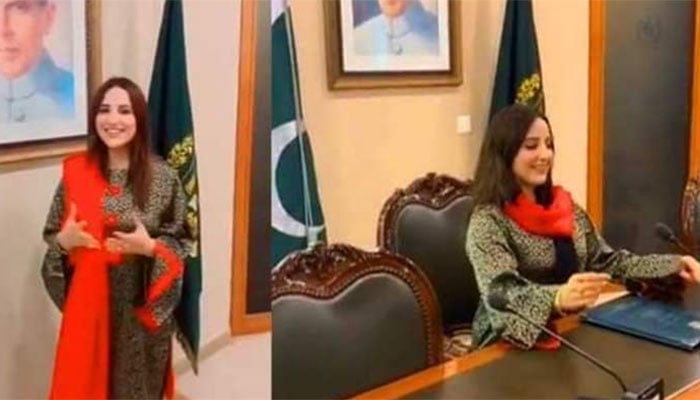 Hareem Shah with Mubashir Luqman:
Hareem Shah With Fayyaz ul Hassan Chohan
The former Jamiat ay Islami worker, also the former pillar of students politics Fayyaz ul Hassan Chohan was also spotted doing the video with tik-tok girls. It was quite obvious because normally it is okay meeting a cultural minister but there are some certain limits. As we all know Fayyaz ul Hassan Chohan is a filmy person hence they did a Tik-Tok video and it also went viral. And it was big news because they did the first video with any politician.
Hareem Shah and Sheikh Rasheed:
We all know that Pindi boy is still un-married and won't let any chance of flirt waste. So he did with Hareem but this time it was painful for Sheikh Rasheed because social media drama queen uploaded his call video on her twitter. It was really shocking to see that shah was saying that she some naked videos of Sheikh Rasheed. So horrible thing to know if Pindi boy was naked with her.
If Sheikh Rasheed can't do responsible things then he should retire from politics. He would be mentally disturbed and feeling some harsh vibes so did a nasty thing against his political future. Hope Sheikh Rasheed will apologize someday for doing such morally corrupt things in a country like Pakistan. If a girl can be killed why we just can't ask the honorable minister to step down. It is really annoying to see such characters as role models in our society. These people are a real curse for Pakistan pushing us towards the wall.
Hareem Shah and Shaheen Shah Afridi:
Another person who did the Hareemzade thing was Shaheen Shah Afridi he was doing a video chat with her where did something awful. The left-arm pacer is a shame for Pakistan it was so bad to know that an athlete doing these cheap things. Sorry to say that but that woman was also so cheap it was disgusting to know how it went on.  
It was really dishearted thing because what we are doing as a nation is a questionable thing. No matter what the circumstances are this kind of behavior does abuse everyone it is wrong and unethical to just let it go like that if we don't correct it well enough it will haunt us all badly someday really hard. We hope that no girl will get impressed by hareem shah her stupidity is really harsh and meaningless. Pakistan deserves better than Sheikh Rasheed, Fayaz ul Hassan Chohan, Mubashir Luqman, and Shah Mehmood Qureshi. They are the real culprits of making Fiza Hussain as Hareem Shah or Sandal Khatak.